About Paint Solutions
Offering Professional Painting Services on the Big Island of Hawaii
since 2014
Paint Solutions is a local business with years of experience. Kekai Burcena, owner of Paint Solutions, has been painting professionally since December of 2000, and his business has been operating locally on the Big Island of Hawaii since February of 2014.
The employees of Paint Solutions love to work! We have talent, drive and passion. Customers are pleased to see our reliable hard workers get the job done in a clean and consistent manner. Our team communicates, plans carefully and problem solves to ensure customer satisfaction. Painting is the easy part.
Not only do we offer painting services, we also help with waterproofing, line striping, pressure washing, and carpentry and drywall repairs. In addition to typical paint work, we are experienced in special coatings, national coatings and GacoFlex products. We practice epoxy coatings, silicone coatings and two component polyurethane elastomeric coatings. Paint Solutions' projects range from commercial buildings to residential and custom work.
At Paint Solutions, we have worked on projects as big as multi-story building complexes and apartment buildings, to projects as small as interior painting of single family homes. No matter how big or small, we guarantee excellent work and dedication every step of the way. We know our materials and always offer the best finishing systems for lasting results. Paint Solutions ensures a high standard for each and every one of our clients. We offer unmatched speed and quality.
Our customers receive fair and competitive pricing. Paint Solutions values repeat business and it is our ultimate goal to develop and maintain a good standing relationship with all customers. We stand behind our work, and we deliver on our promises.
We are always evolving. To stay competitive, we maintain healthy relationships with vendors and stay updated with the newest equipment and liquid products available, improving the application process to cut cost for clients. The sky is the limit! We have the training, the equipment, and the resources to tackle any project. All jobs are welcomed!
Our Services
Professional Painting, Waterproofing, Line Striping and More
At Paint Solutions LLC, we offer both commercial and residential painting services. We specialize in interior and exterior painting as well as waterproofing, line striping, pressure washing, and carpentry and drywall repair. We can help with a wide range of projects, from commercial buildings and apartments, to residential homes and custom work.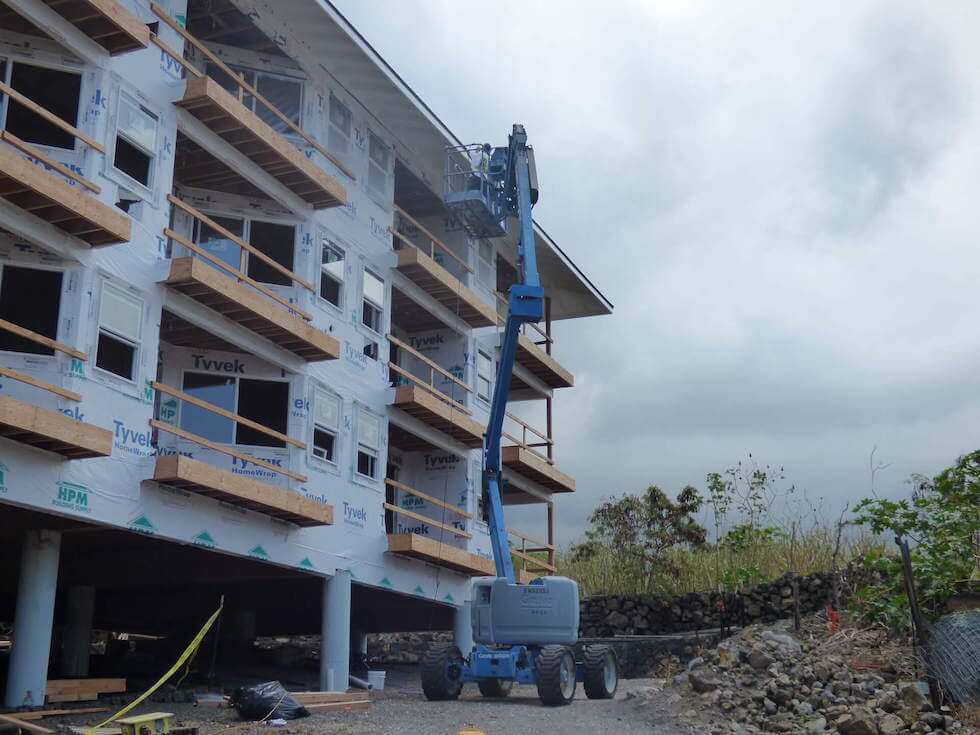 Painting
Painting the interior or exterior of a home or building is the best way to bring a substrate to life.
With the right system of materials and the right applicators, painting or repainting any surface will increase protection from the elements. It increases the value of a home or building and improves curb appeal. Most potential problems are identified and remedied in a home or building prior to painting, which makes painting a good preventative maintenance.
Other than practical cost, protection, curb appeal and preventative maintenance, painting is the way to personalize your substrate and really make it unique.
Waterproofing
Moister is the enemy and a cause of a deteriorating substrate. Leaking roofs or decks can lead to a list of interior problems that often result in an interior remodel.
Applying the best waterproofing materials available to your pedestrian decks, walkways, flat and pitched roofs will provide you piece of mind and save you thousands in repairs.
Waterproofing your roof also helps reflect heat, keeping your interior cooler.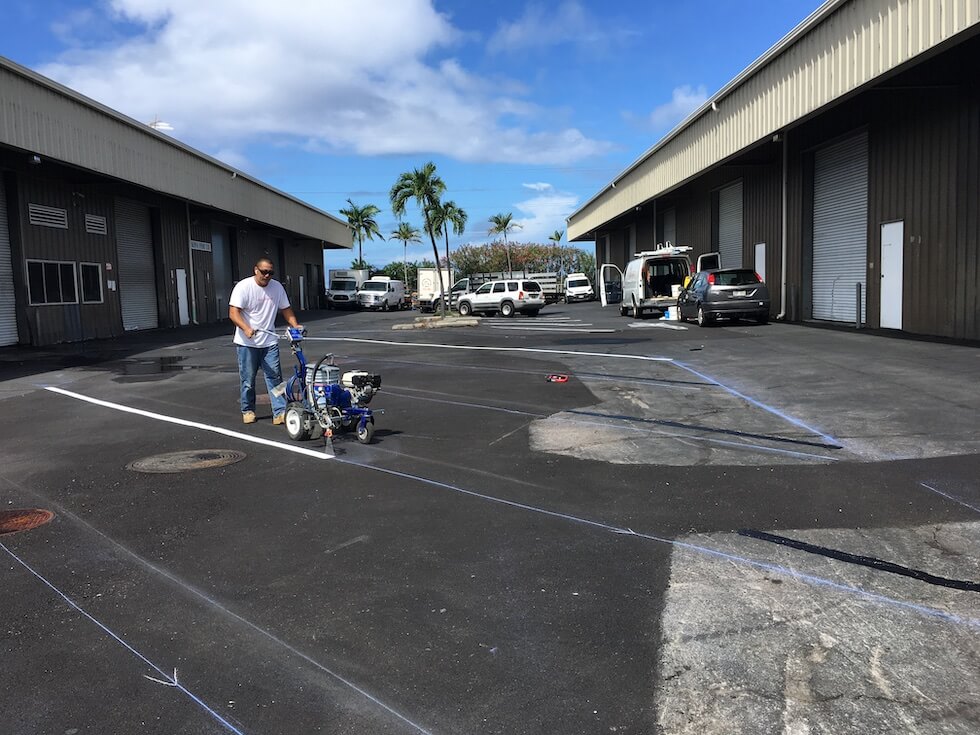 Line Striping
Confusion in a parking lot can cause an accident. Pedestrians need to know where it's safe to walk and automobiles need to know where they can drive and park.
Striping or restriping the parking lot of your business will keep a good flow of traffic and order. It will not only look great; it will also keep the public safer and possibly increase parking capacity.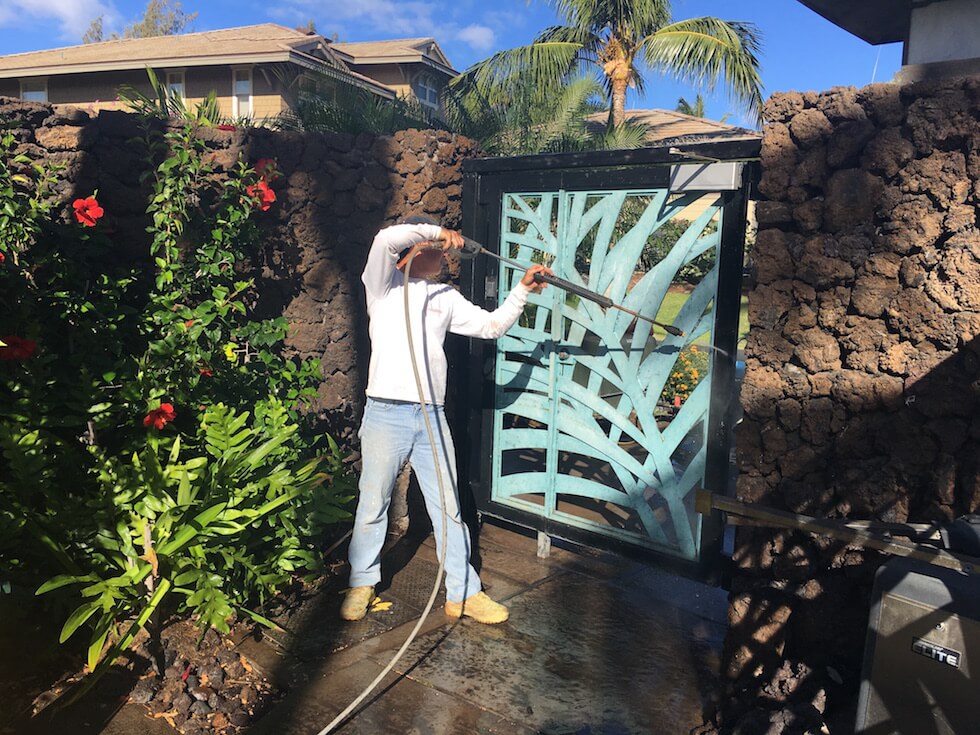 Pressure Washing
This is part of pre-paint prep on all our repaints. It is also a good way to maintain an already painted surface, keeping dirt, mildew, bird and gecko droppings from eventually breaking down that surface.
Walkways, sidewalks and driveways get gummed up with dirt, oil, and other pollutants overtime. Pressure washing these surfaces clean will prevent slipping hazards for foot traffic and improve curb appeal.
The number of items that can be pressure washed is endless.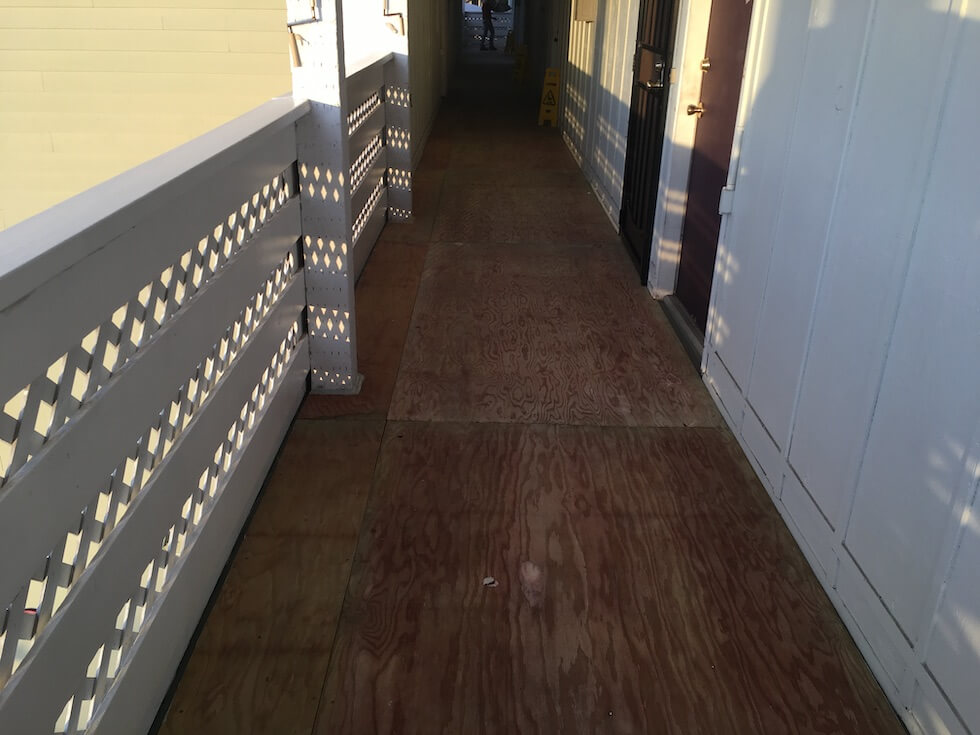 Carpentry Repair
Wood rot, caused by moist and humid conditions, is better to replace than patch. Identifying moister issues in wood early on can save thousands in repairs and down time.
Replacement of wood trim, facia boards, wall sidings and deck sheeting after a moister issue has been solved may be necessary. Getting rid of soggy, rotten lumber is the first step before properly sealing and painting.
Drywall Repair
Before repainting an interior, repairs are almost always needed. Patching holes is not always enough.
Doing quality repairs such as wall board replacement, taping, floating, and texturing are important when you are doing a remodel or repaint.
Testimonials
What Our Clients Are Saying About Us
Paint Solutions went above and beyond what was expected. They did great work, always cleaned up, locked up their units and I never had to check on them. Thank you!
Lori
Kona Magic Sands
Resident Manager
I had struggled to find someone to bid on this project, let alone follow through. I was so happy to find Kekai who was responsive, followed through, and met every promise he made. The finished work was beautiful! It's not easy to satisfy 192 homeowners but I'm pleased to say everyone was happy. Paint Solutions is the best!
Libby
Hali'i Kai HOA
Paint Solutions, LLC were highly professional. I truly recommend Paint Solutions, LLC for other upcoming projects in the near future, I will definitely use them again!
Gaiven
Kona Sea Villas
Resident Manager
Get In Touch
Contact us today for a

FREE Estimate
Based in Kona, Hawaii
Serving the entire Big Island
Please complete the form below to send us a message, and we'll give you a call back to discuss your project!